A vision for change
Fred was an ophthalmologist and eye surgeon who believed that all people, whether rich or poor, should have access to quality and affordable eye care.
A respected humanitarian and eye surgeon with a reputation for getting things done, Fred is remembered for helping restore sight to thousands of people in Australia and across the globe.
"I believe the basic attribute of mankind is to look after each other."

- Fred Hollows
Your fundraising efforts through Sydney Coastrek will continue Fred's work to achieve his dream of living in a world where no one is needlessly blind.
The Early Years
A man who got things done
Fred was born in 1929 in Dunedin, New Zealand. Excelling in science, Fred was offered a place in medicine, and after graduating, he relocated to the UK to specialize in ophthalmology before returning to Australia to become Associate Professor of Ophthalmology at the University of New South Wales.
Fred originally studied to become a minister until a summer job at a mental health facility opened his eye to a new way of thinking.
Fred was impacted greatly by his father's empathy for humanity.
His dad was a Christian Marxist who believed everyone should receive a fair wage for their work. It was this beginning that would later influence Fred to bring medical care to the poor.
(Photo right) Left to right: Maurice Hollows, Fred Hollows, Winton Clancy and Ian Ogier were in the 2nd Boys Brigade Company in Palmerston North, New Zealand.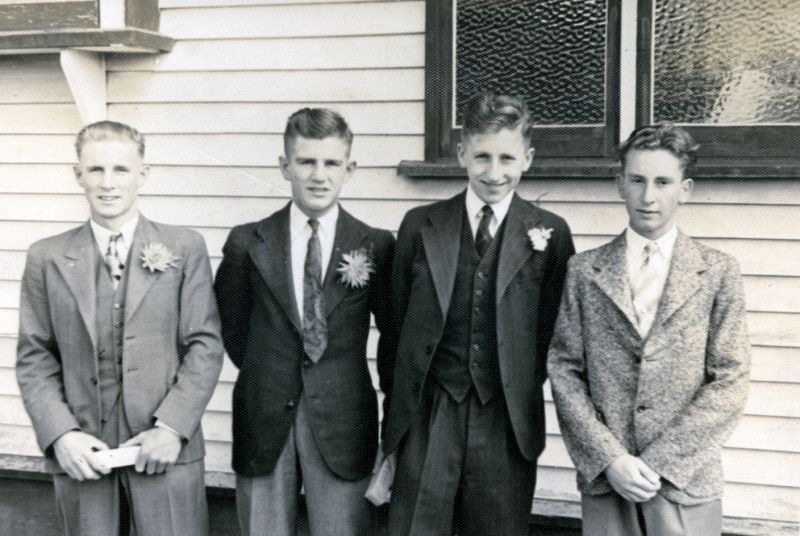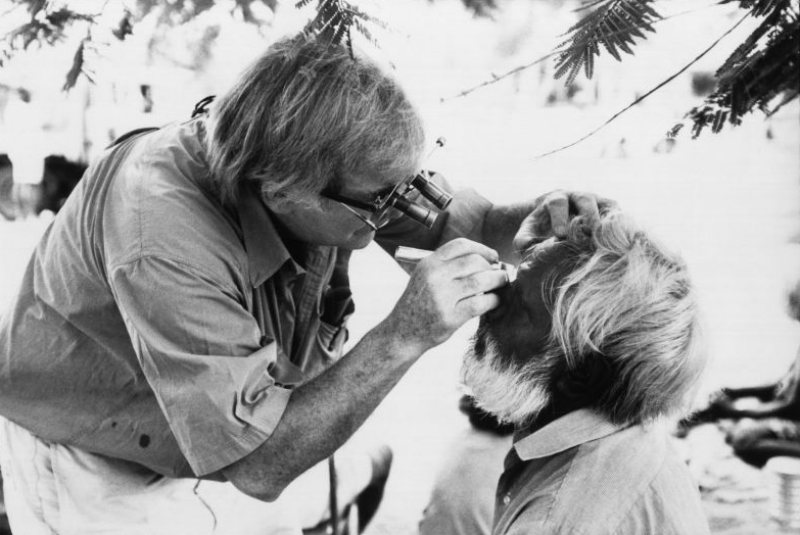 Rural Australia
The crusade beings
In 1968, Fred visited an Indigenous Australian camp in the Northern Territory. He was shocked by the poor standard of health in the camp, and returned to fight for better eye health and living conditions for Indigenous Australians.
In the early 1970s, Fred met Gabi, and together they worked on the National Trachoma and Eye Health Program which took them to 465 indigenous communities. This program:
Screened 100,000 people
Treated 27,000 people for trachoma
Dispensed more than 7,000 pairs of eye glasses
Performed more than 1,000 operations
(Photo left) Fred Hollows examines the eye of an indigenous Australian. Photo: Stephen Ellison.
Abroad
Affordable eye care for the developing world
In 1985, Fred visited Nepal, Burma, Sri Lanka, Indonesia, Bangladesh (and later Eritrea) where he set about investigating measures to reduce the cost of eye care and treatment in the developing world.
"It's obscene to let people go blind when they don't have to be." - Fred Hollows



Making lenses in Australia and shipping them was expensive, so Fred decided it would be best to shift the production (and profits) to the communities needing them - a revolutionary approach for its time.
Fred's decision to build lense factories in the developing world is considered one of his most important achievements.
(Photo right) Dr Assefaw, Fred Hollows, Dr Desbele Ghebreghergis and Dr Nerayo enjoying the post war celebrations in Eritrea. Photo: Pat Fiske.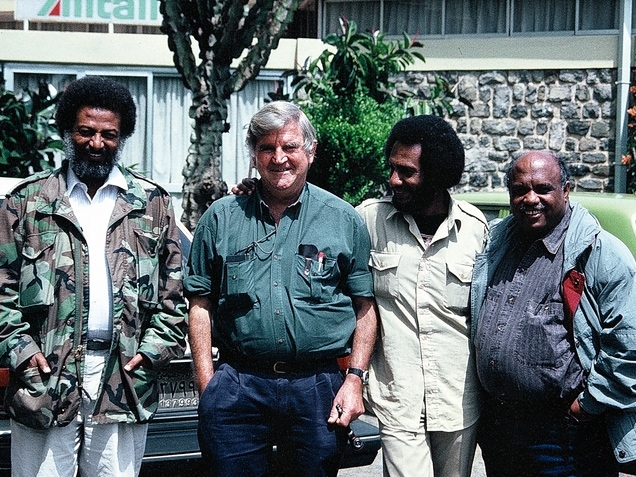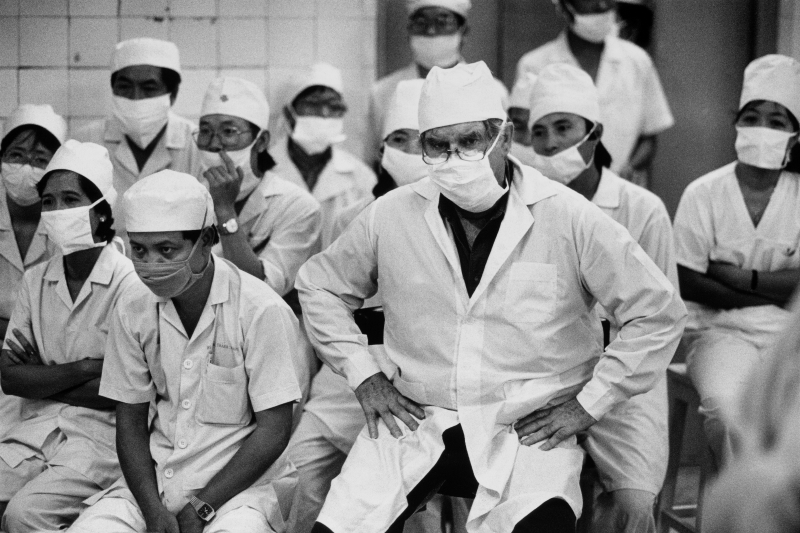 Final Years
Training eye surgeons in Vietnam
In 1989, Fred was diagnosed with cancer.
In 1992, facing the last few months of his life, Fred discharged himself from hospital and flew to Vietnam to fulfil a promise he had made to train more than 300 eye surgeons in modern surgery techniques.
Training the next generation of eye surgeons and passing on his knowledge to others was Fred's passion.
Since 1992, The Fred Hollows Foundation has become a leading eye care NGO in Vietnam, partnering with governments, universities, and more than 20 provincial service providers.
(Photo left) Professor Fred Hollows with Vietnamese eye surgeons as they watch a cataract operation being performed via digital microscope in Hanoi. Photo: Michael Armendolia.
Fred's Legacy
Continuing Fred's Work
In 1992, following Fred's cancer diagnosis, Fred and Gabi Hollows established The Fred Hollows Foundation with help from some friends to ensure his work would continue into the future.
Fred Hollows died on February 10, 1993. He was 63 years old.
Before he died, he told his wife:
"Gabi, it doesn't matter if I die tomorrow, I know you and all those people who believe in what I believe in, will carry on."
- Fred Hollows
The Fred Hollows Foundation now works in more than 25 countries, and has restored sight to more than 2 million people worldwide.
(Photo left) Fred Hollows examines the eye of Tian Van Giap in Vietnam in 1992. Photo: Michael Armendolia.