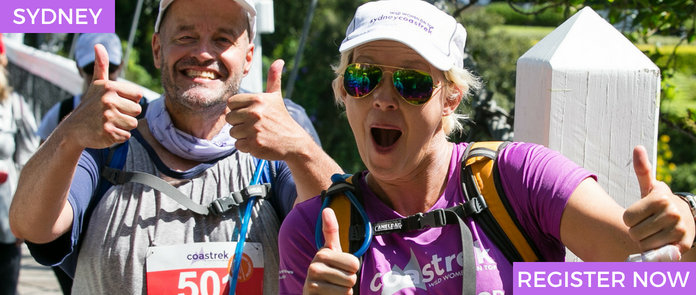 Quick Facts
Date 15th Mar 2019
Location Sydney
Fundraising Amount
$500 pp
30km - Sydney Coastrek 2019
Hike 30km in teams of four from Rushcutters Bay via breathtaking Sydney headlands to Manly.
Pricing
Pre-Sale Access: SOLD OUT in 3 hrs
Early Bird Registration: SOLD OUT
Standard Registration: $172 per person
Benefits
Get fit and happy with friends
Proudly support The Fred Hollows Foundation
Luvmyhike 12-Week Training Program
Nutrition, training and gear tips
Individuals looking to join or create a team
Email
N_mottau@hotmail.com
Email
andrea_peirce@amp.com.au
Comments
Happy to join either 30 or 60km teams. I just want to participate and none of my friends are interested.
Email
juliegorman@bigpond.com
Comments
I have wanted to do the walk for the last couple of years but none of my friends want to do it.
Email
jmbill@internode.on.net
Comments
I would love to participate but don't have a team. I live in Brisbane but can come down for a few training / get to know sessions . I am fit, 60 not super fast walker.
Comments
I do not have a team, but would love to join in. I am quite fit and about to go for 7 bridges walk in the end of October'18. I live in Sydney, Lower North Shore. Please get in touch - I enjoy walking.
Email
ruth.budge@hotmail.com
Comments
I live in Adelaide but wish to participate in Sydney Coastrek in 2019. I am reasonably fit but recent surgery prevented me fully participating in Adelaide's inaugural Coastrek in September.
Email
Ysbradbury@gmail.com
Email
jewei0521@yahoo.com
Comments
I am looking to do the 30K walk, a bit of inspiration to get off my bum...There's quite a few of us looking for a team. I may email and see if we create our own team?
Email
gordonsale@hotmail.com
Comments
Hiya Just looking to join a team for such a great cause.. Happy to do either walks
Comments
Hi would like to walk at a fairly good pace and complete the 30 km in around 5 to 5 and a half hours
Email
Ingramkim728@gmail.com
Comments
Hi, looking to join a team, live southern highlands