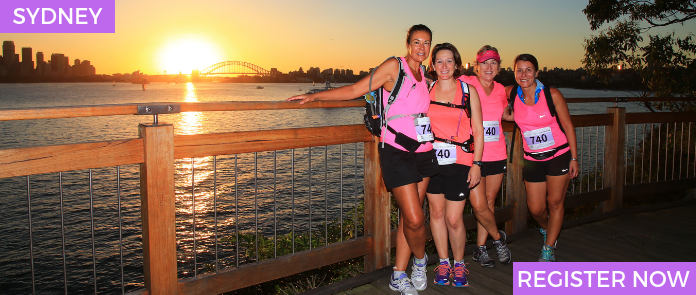 Quick Facts
Date 15th Mar 2019
Location Sydney
Fundraising Amount
$500 pp
15km - Sydney Coastrek 2019
Hike 15km at moonlight in teams of four from Mosman via secret bush trails to Manly.
Pricing
Pre-Sale Access: SOLD OUT in 3 hrs
Early Bird Registration: $86.50 per person
Standard Registration: $99 per person
Benefits
Get fit and happy with friends
Proudly support The Fred Hollows Foundation
Luvmyhike 12-Week Training Program
Nutrition, training and gear tips
Fundraising
Get motivated to change lives with an epic fundraising goal
Each team commits to raising $2000 for charity
Coastrekkers have raised over $25 million to date
Individuals looking to join or create a team
Email
taryan.tw@gmail.com
Comments
Hi everyone, I am looking to complete my first coastrek! Would love to find a team for the moonlight Mosman to Manly. I'm in my mid 40's looking for fitness, adventure and to show off my kickass, wild woman side!
Email
jhayes3@woolworths.com.au
Email
gaillewalton@gmail.com
Comments
Hi Everyone I'm so keen to do the 15km trek. I'm in my 60s, yes, but am very fit. Have recently returned from a Walk Japan trip, where we walked up and down hills and small mountains for 10 days, averaging 12-15km every day. No problem. I hope so done will have a vacancy for me. I'd love to be signing in tomorrow-Tuesday-to save some money.
Email
dockrill2000@yahoo.com.au
Comments
First of all I turned 70 last year. Have done both distances 55km (5 times) and 30km (twice). Felt it was time to try the shorter distance. I live in the Hills area, also stair climbing events.
Comments
Hi There Im keen to find a team to complete the 15klm event. I have previously completed the 55klm from Cronulla to Balmoral, which was a great experience. Im in my mid 40s and look forward to the opportunity to participate, get fit, meet new people, and raise funds for a really great cause.
Email
Mina_lesani@yahoo.com
Comments
Hi everyone. I have recently moved to Sydney from UK but love to join for this walk and be inspired by the energy of women who are ready to challenge themselves in order to help the other human beings through this wonderful charity. Also My teacher M.A.Taheri is in prison in Iran now for over 8 years just for his ideas which is talking all about love and peace and freedom. I will be his voice wherever I go to spread love, peace and humanity!
Email
sistersoulshine7@gmail.com
Comments
Hi everyone, looking to complete my first coast trek and would love to join a team for the moonlight walk. Fit and keen :)
Email
catherine.oneill2018@outlook.com
Email
lara.pierce10@gmail.com
Comments
This will be my first CoasTREK! 29yr old woman with a large, very happy fur companion ???? Hoping to find a like-minded team to complete this adventure with & help support this Foundation ???? Located: Richmond, NSW Transiting to CBD for the event NIGHT ????
Email
hallmaryanne9@gmail.com
Comments
Hi My name is Maryanne and would like to be part of a team of possible I am 59 and have experience walking 12km bush walks
Email
nichollsa@hotmail.com
Comments
Hi Myself ( I am 63) and my daughter Kimberley ( she is 29) would love to join a team for the moonlight mosman to manly walk if anyone has 2 spots. thanks